If you're on your phone,
REPORT A TIP NOW
Crimeline
1-800-423-8477
Orlando Police
1-407-246-3982
PLEASE WATCH THE 3 PARTS OF THE 48HOURS EPISODE FEATURING JENNIFER KESSE
To watch them please click here. Thank You!
View Lawyer PSA
(Windows Media)
See the May 13 "Dateline" Interview from MSNBC
Links To
Missing Persons
Sites & Organizations
Personal Safety Info - Spanish Edition
Fl. Missing Persons Law -
Jennifer Kesse – Tiffany Sessions Missing Persons Act
Please google "Jennifer Kesse" for any and all media concerning Jennifer's abduction"
The Search For Jennifer Kesse
We understand that many visitors to this website are looking for more information about what happened to our daughter Jennifer. We are very grateful to the local and national media for all the coverage that has been provided to our search efforts they have done a tremendous job. We can not say enough about the support of residents in the Orlando area and the volunteers who have come from all parts of our state, out of state, including tourists visiting the area who have donated their time to assist with our search efforts.

Jenn, as family and friends know her, was Reported missing when she failed to show up for work on the morning of Tuesday January 24th, 2006. For those of us close to Jenn, we knew something must be wrong. If she was going to be late for work or a meeting she would call. In fact Jenn had good routines she and Rob, her boyfriend called each other everyday while driving to work in the morning and would speak with each other every night before going to bed. On the night of Monday January 23rd, she talked to my husband and I, later with some friends and she and Rob talked by phone as usual and that was the last anyone has heard from Jenn.

She and Rob did not talk the morning of Tuesday January 24th. Rob called Jenn at work and was told she had not arrived yet. When she did not show up for work, her employer immediately called us to see if we knew where Jenn was, we tried to reach her at the condo and on her cell phone and were unsuccessful. We left our home and after arriving at her condo, and not finding her at home, immediately notified the police.

On Thursday Morning the 26th, police found Jennifer's car abandoned in an apartment complex not far from where she lived.

Jennifer is a strong, fun loving, career minded and responsible young lady if she was running late to work she would have called which is why we all became concerned immediately. At no time had Jennifer shown signs of discontent with her life, relationships or work environment.

As I am sure you all can appreciate, this has been an extremely stressful two weeks. We would encourage you to visit the various media websites their coverage has been detailed and accurate.

The Orlando Police Department and all of the other agencies involved have been extremely professional, keeping us posted on a regular basis. We know they are doing everything in their power to help bring Jenn home safely.

Please keep Jenn in your prayers and visit her website for updates. Please think about everyone you know if you believe someone you know or suspect someone you may know might be involved, please call Crimeline immediately and share that information it may be nothing or it may be the missing piece of information that will help bring Jenn home safely. Thanks again to everyone for interest, assistance and support.

Joyce & Drew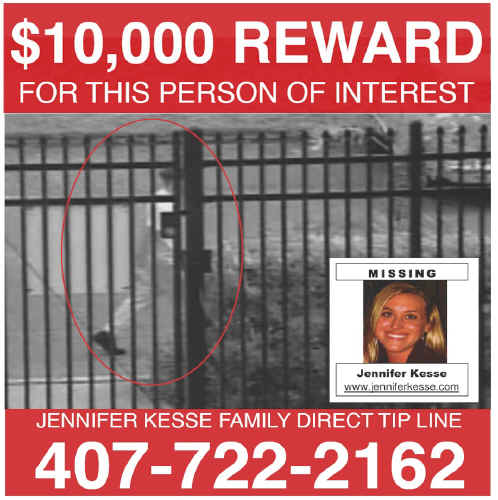 ORLANDO, Fla. -- Orange County deputies found the car belonging to a missing 24-year-old Orlando woman at the Huntington on the Green apartments at Americana and Texas on Thursday morning. Sheriff deputies acted on vehicle information provided from the news media.

Orlando police are leading the investigation into the disappearance of Jennifer Kesse who was last seen on Monday. Neither her family members nor friends have heard from her since then. Her family and police are hoping fliers with her picture will help track down the missing woman.

Deputies found the 2004 black Chevy Malibu belonging to Jennifer Kesse on Thursday morning.

Not knowing what has happened to Jennifer has been excruciating for the family and her friends. Wednesday, they were at the condo she moved into on her own just two months ago, hoping there will be some shred of evidence that will lead police to her.

"She is daddy's girl, she's not afraid to talk to myself or my wife about anything," said Drew Kesse, Jennifer's father.

Jennifer is known to be extremely close to her family and friends. That's why they all now fear something is terribly wrong.

"I didn't think I'd ever talk on TV about my daughter being missing," Kesse said.

Police are calling her disappearance suspicious. Flyers with her picture are up all over the community in and around the Mosaic condos on Conroy Road, near the Mall at Millenia. Officers searched the thick brush just across from her condo.

The last she was heard from was Monday night. She called her father after getting home from work.

"That was it, just catching up, how ya doin'. We talk quite regularly. That was the last I spoke to her," he said.

She had just come back from a trip to the Virgin Islands this past weekend with her boyfriend who lives in South Florida. She drove up Monday morning from Fort Lauderdale and went straight to work at the Central Florida Investments Timeshare Company in Ocoee.

But, after speaking to her dad Monday night at her condo, she never showed up at work Tuesday morning and no one can get her on her cell phone.

Recently, she shared concerns about living at the condos, though she was proud she could afford the place just two years after graduating from the University of Central Florida.

"This was her pride and accomplishment, bought it by herself. She had some concerns with the maintenance crew," Kesse said.

Her boyfriend, Robert Allen, agreed saying she was uncomfortable with the workers around. The buildings had just recently been converted to condos and only a handful of residents live in her unit.

"Obviously, for me living three hours away, difficult hearing that with her saying I'm a little nervous here and there," Allen said.

Along with Jennifer, her car was missing. The 2004, black, 4-door Chevy Malibu with plate number H-9-0 K-Y-C was found Thursday morning. If you have any information about the woman's disappearance, call Crimeline at 1-800-423-TIPS.