If you're on your phone,
REPORT A TIP NOW
Crimeline
1-800-423-8477
Orlando Police
1-407-246-3982
PLEASE WATCH THE 3 PARTS OF THE 48HOURS EPISODE FEATURING JENNIFER KESSE
To watch them please click here. Thank You!
View Lawyer PSA
(Windows Media)
See the May 13 Dateline Interview from MSNBC
Links To Missing Persons
Sites / Organizations
Personal Safety Info - Spanish Edition
Fl. Missing Persons Law -
Jennifer Kesse – Tiffany Sessions Missing Persons Act
Please google"Jennifer Kesse" for any and all media concerning Jennifer's abduction"

Jennifer Kesse 9 Year Age Progression
Click to Enlarge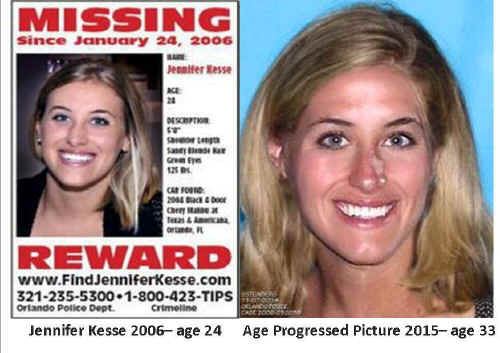 Jennifer Kesse Business Cards
right click to print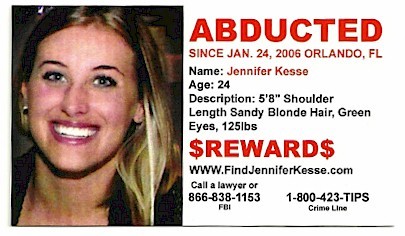 Jennifer Kesse – 9 years Missing, January 24,2015

Certain Sorrows Never Fade.
- By Brigitte
"And no matter what anybody says about grief and about time healing all wounds, the truth is, there are certain sorrows that never fade away until the heart stops beating and the last breath is taken" – Tiffanie DeBartolo

As we sit here trying to ask ourselves what words to write that would touch someone's heart enough to come forward, we realize that they have been written and spoken so many times over the past 9 years. We realize that more than one person knows what has happened to Jennifer and we know you may be very afraid to speak up. You shouldn't be because if you know of the person(s) committing the act of Abduction on our loved ones it will continue until you do speak up. It will continue to haunt you until the little voice in your head says "I must tell what I know I must stop these crimes that no one deserves to have committed on them". These people will continue to ruin lives and families and someday maybe even your own if you do not speak up. If you know something and the person(s) know you do, do you feel safe? Is it just a matter of time before you too fall and become a victim to this person/people? Are you willing to roll the dice? Sooner or later Jennifer will be found and the truth as to who was responsible will become known. Will you still be alive to see that or will you run out of usefulness by this/these criminal(s)? Is your life a continual look over your shoulder, am I safe, will I be next? Is it worth keeping the secret or do you free yourself from a burden that has been upon you for 9 years, maybe more….. You have to ask yourself is this the world I want to live in? One filled with fear? Or do you speak up and be free. Free to move on in your life, free from worry, pain, stress, crime or do you hide behind your fear, cowering until life passes you by?

It has been 9 years and yet not a direction to go on in Jennifer's case. Is it someone at her work? Maybe an old boyfriend? Is it someone where she lived she knew little of? Or is it Human Trafficking? Our minds wander in many ways yet one thing is constant, the desire to Find Jennifer and bring her home. We have patience, we will perceiver. We bend but we do not break. The Unconditional love we share within our family and friends is much stronger than the evil that has been put upon us. We can take the pain, the pressure, the stress, why? Because it is "For the love of Jenn". Joyce and I created Jennifer and Logan with all our Love and we are bound together by that love no matter how far apart we are and even when we don't know where she is. It is love that is lacking in so many people's lives that makes them feel unwanted, uncared for and ultimately uncaring of what they do to others. Love is powerful and trumps hate every time. Love will get you through almost anything. We understand the world is made up of so many different kinds of people and we know none of us are perfect, yet when it comes to crimes which are so heinous to just about all of us, such as Abduction, we must act as one society that will not allow this crime to continue without bringing it in check. People aren't "Taken" for the hell of it. They are drugged, starved, beaten, raped, abused and sold over and over again till they are eventually found or killed. That is fact. Criminals who carry out these acts so violent and heinous have no soul; they have no feeling left inside. These criminals don't think like us and they have no value of their own lives let alone anyone else's, which is why they must be stopped.

We want you to know that Leads are still received by Orlando Police, ourselves and media outlets to this day! 9 years and a week does not go by that a lead does not come in on Jennifer's case. That is POWERFUL! Please help us in our continued efforts in trying to find Jennifer by passing on this website to all you know. Please visit her Facebook pages, Help find Missing Jennifer Kesse Community and Page. Twitter , pineterest, etc….. We have reached over 60 countries which know of Jennifer's abduction and we need to keep her face and a number to call out there for all to see. We know it has been a very long time. We know some of you think we are crazy for still thinking we will find Jennifer. It is not only possible, we will find her and we will need your help in doing so. We have the best chance of finding her with you, John Q Public. You prove it every day with crimes you help solve. You, the public, make the difference! Use your power, make it happen for Jennifer. Let us find her.

Drew, Joyce, Logan & Katie Kesse

---


The family and friends of Jennifer Kesse wish to Honor her by establishing "The Jennifer Kesse Criminal Justice Endowed Scholarship" at University of Central Florida Foundation. The scholarship will be supported from the donations of friends and family. The purpose of the scholarship is to provide awards to UCF students enrolled in the Criminal Justice Graduate Program. April 24, 2013 - We would like to congratulate Mr. Alberto Fabian as the recipient of Jennifer's 2013 scholarship award. We wish him great success in his chosen field of criminal justice work.

To provide a gift to this scholarship fund online, please visit:
https://www.ucffoundation.org/givetocohpa
-Scroll down on the drop-down to "The Jennifer Kesse Criminal Justice Endowed Scholarship" click on it and fill out remaining information
- A donation hard copy link is also available for printing and mailing just below as well.

-

****All checks should be made out to "UCF Foundation, Inc." only, NOT Jennifer Kesse. The Jennifer Kesse Criminal Justice Scholarship MUST APPEAR in the MEMO line*****



Mail Donations to:
The UCF Foundation
C/O Katie Korkosz
UCF College of Health and Public Affairs
PO BOX 162200
Orlando, FL 32816-2200
-All donations are tax deductible and you will receive a receipt of your gift.

Thank You,
The Kesses

for information - UCF Foundation, Inc. Donation Information

to donate - UCF Foundation, Inc. Donation Form


---

-The Search For Jennifer Kesse –

It has been 7+ years since Jennifer's Abduction, we understand that many visitors to this website are looking for more information about what happened to our daughter, Jennifer, from the beginning. We are very grateful to the local and national media for all the coverage that has been provided for Jennifer and to our search efforts - they have done a tremendous job. We cannot say enough about the support of residents in the Orlando/ Central Florida area and the volunteers who have come from all parts of our state and country, including tourists visiting the area who have donated their time to assist with our search efforts and continue to help us keep awareness for Jennifer high. Jennifer needs to come home and for no ones sake more than her own. The heinous crime of Abduction is something no one should ever experience.

As means of re-capping Jennifer's abduction - Jennifer, was reported missing when she failed to show up for work at Central Florida Investments, on the morning of Tuesday January 24th, 2006 in Orlando Fl. after a long weekend in St. Croix with her boyfriend and other friends (they Flew both ways, there was no cruise as some people think). For those of us close to Jennifer, we knew something was wrong immediately. If she was going to be late for work or a meeting she would call. In fact Jennifer had good routines she and her boyfriend (who lives hours away in south Florida and Jennifer in Orlando) called each other everyday while driving to work in the morning and would speak with each other every night before going to bed, having a long distance relationship, seeing each other on weekends and Holidays. On Monday, the morning of 1/23/06, Jennifer left her boyfriends home in south Florida and drove directly to work in Ocoee Fl, not going home first but directly to her work as she usually did when she stayed the weekend in south Florida. On the night of Monday January 23rd, Jennifer left work at approx 6pm, walking out of the building, where she worked with her boss and wishing each other a good evening and will meet again in the morning. That evening, Jennifer talked to her Father, Mother, Brother and later with some friends and her boyfriend by phone as usual and that was the last anyone has seen or heard from Jennifer – Telephone call to her boyfriend at 9:57 pm 1/23/06 – Monday night.

Jennifer and her boyfriend did not talk the morning of Tuesday, January 24th. Her boyfriend called Jennifer at work and was told she had not arrived yet. When she did not show up for work, her employer immediately called us, her family, to see if we knew where Jennifer was, we tried to reach her at her condo and on her cell phone and computer but attempts were unsuccessful. Police were notified and the journey into Jennifer's personal Hell began. Reaction was quick, within 2 hours of not being at work - her disappearance was known and being acted on by family and police. Upon reaching Jennifer's condominium by mid afternoon, we found it normal. Everything was clan and in place. She had obviously slept in her bed, taken a shower (wet towel and shower) and had a couple outfits on the bed she was choosing to wear. Her tracks seem to cease from when she left her condo for work usually around 7:30-7:45am each work day. By 4 pm, family and friends of Jennifer had fliers made and being distributed within the immediate area of her condominium located at Mosaic at Millenia condominiums next to the Mall at Meillenia, Orlando, Fl. and awareness has not stopped since.

On Thursday 1/26/06 at high noon, police were notified that Jennifer's car was abandoned in a condominium complex 1.2 miles down the same road from where she lived in The Huntington on the Green Condominiums at the corner of Texas and Americana Ave in Orlando, Fl.. Her car was parked by a Suspect (on video) who pulled into a visitors parking space waited 32 seconds to exit her car and walked away, never looking back. Please see the video of the Suspect on this website. There is a reward of up to $5,000 for the identification and/or whereabouts of Jennifer. Tips may be called into Crimeline 1-800-423-8477 or to FBI directly @ 1-866-838-1153. There were valuables left in Jennifer's car, so police do not feel it was for robbery or carjacking, but for Jennifer, herself. Bloodhounds tracked a scent from where her car was found back to her condo complex losing the scent on Jennifer's condo property. Tips CONTINUE to come in for which we are thankful for.

Jennifer is a strong, fun loving, career minded, responsible young woman. If she was running late to work she would have called which is why we all became concerned immediately. At no time had Jennifer shown signs of discontent with her life, relationships or work environment, quite the opposite in fact.

Please keep Jennifer in your thoughts and visit this website for updates and pass it on often to all you know – Awareness will find Jennifer. Please think about everyone you know - if you believe someone you know or suspect someone you may know or might be involved, please call Crimeline or FBI immediately and share that information it may be nothing or it may be the missing piece of information that will help bring Jennifer home . Thank you for caring, keeping Jennifer in the forefront of your minds and please never give up on her, someone knows something.

Joyce & Drew & Logan Kesse

---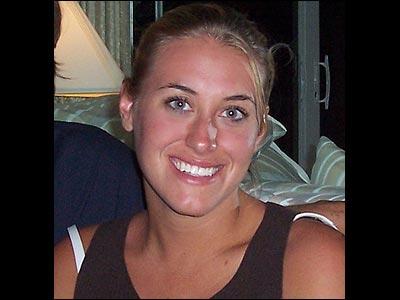 Pictures of Jennifer Kesse
please enlarge for full size photos
If this is your first time on JenniferKesse.com, thank you for stopping by. Since your here, could you do us favor? As soon as your finished understanding what the site is about, could you please email it to everyone you know. Thank you, it's important to us, and we'll forever appreciate it.


For an excellent article and 4 minute video with CBS Early Morning Show with Howard Smith about Jennifer Kesse's Disappearance - Click Here

Everyone asks - What Can We Do Next To Help?

Here's your answer

Tape them to your car windows.

Ask everyone you know close to you to put one on their car window also.

Send a couple copies to anyone in your family that doesn't have a printer and lives in Central Florida

Ask them to put them on their cars also.

Stop by every truck stop you see and talk to some of the drivers and give them flyers. Ask them to drop them off at their next stop.

Stop by businesses with fleet vans and ask them to put the flyers in their side windows.

Most grocery and department stores use front windows for displays, display these flyers there.

Phone booths are rare, but tape flyers on the ones that are there.

If you have family in Georgia, Alabama, Louisiana or South Carolina, send them the links and ask them to do the same thing.

Remember - The objective is to turn Central Florida into a moving billboard of Jennifer's profile. The more flyers moving through the area, the more eyes we'll have out looking for her.